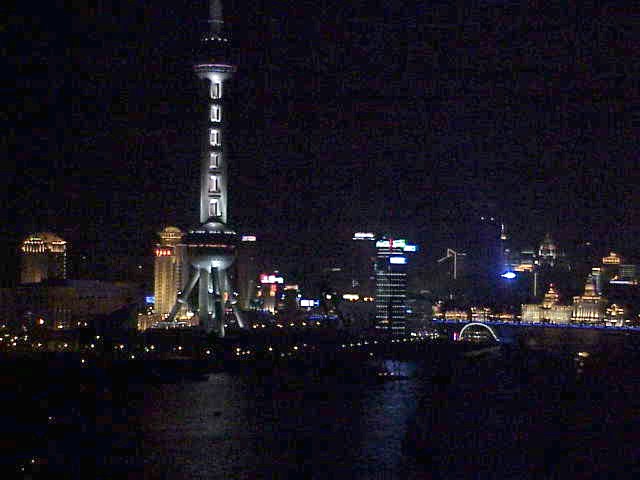 Shanghai night Shanghai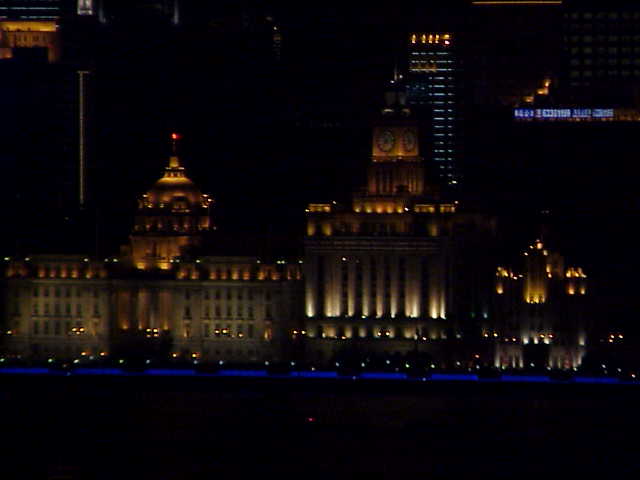 Bund, night Shanghai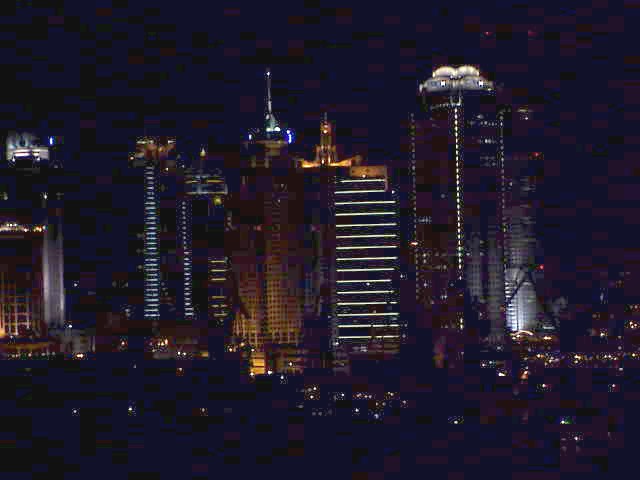 Shanghai night Shanghai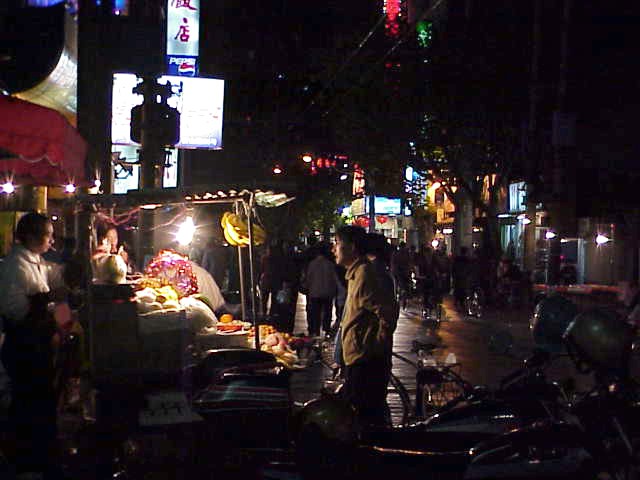 Fruit vendor, neon signs, night Shanghai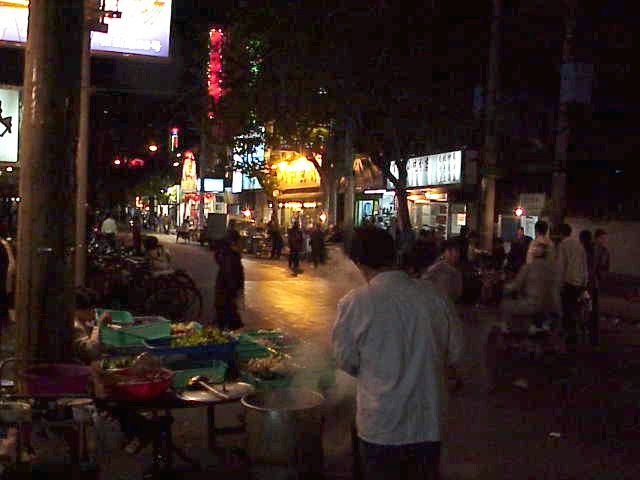 Night street scene Shanghai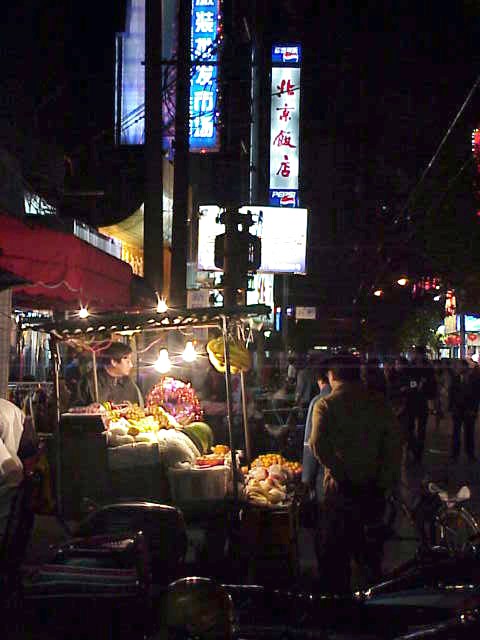 Fruit vendor, neon signs, night Shanghai
Train to Shanghai, about an hour. Met by CITS guide and headed to supper – Broadway Mansions, nice looking hotel, but terrible dinner – tasteless, boring. Several plates of plain veggies, nothing else added, plus bland fried fish. Hardly any soy sauce, no garlic, even lacking any salt. Perhaps 2 dishes of the nine were worth eating. Easily the worst meal of the trip. Outside, despite the doorman's best efforts to chase vendors away, embroidered aprons were a hot seller. Also got a Mao watch (he waves his hand as a little red star second-hand rotates.) Oceans Hotel much better, though beds still rather hard. We had a splendid river view across to the new Shanghai on the east side of the river, Bund lit up farther upriver, and brightly lit boats drift downstream.

Yu gardens in central area, evoked memories of 1985 visit here and to the teahouse, but the area surrounding the gardens are now built up, in old China style housing markets. Interesting streets with tourist and domestic items for sale – food stores with dried mushrooms, various herbs; lots of snuff bottle shops. I bought a collection of bottles for about 30 each, then while waiting across the street for the Visa to process another seller asked if I were interested. Told him I'd just bought a dozen, but he persisted and asked me to name a price. Thinking to end the transaction, I said only for 20 each, he said fine, and I chose another dozen. (initial prices at both shops were 300-400 or more per bottle)

Mongolian hot pot – a good lunch, you pick items from a buffet then take them to a special cooking area. 3 cooks stand around a large flat grill, perhaps 6 feet across; they splash your dish with flavorings on the grill, then chow it with long chopsticks. Each passes it to the next guy, until the third cook swirls the cooked mélange into a bowl and presents it with a flourish. Unfortunately, the saucings are really watered down for western tastes. Sharon & I finally decide to do our own, taking the fixings back to our table to cook in the central pot of soup. Adding beef, lamb, pork, veggies and mass quantities of ginger, garlic and hot sauce we completed a tasty dish with soup.

Jade pagoda Buddhist temple; of interest here were the many people coming in and buying bright red bags and boxes tricked up to look like treasure chests. They'd fill them with shiny trinkets of foil and paper, and then take them to the incense burners to toss them in among the joss stick fires.

Supper at the Merry Hotel, mapo dofu, excellently tender beef with onions, eggplant with chile and sweet sauce.

New Shanghai Circus – acrobatics show. Once again, incredibly impressive, from hundreds of spinning plates, to balancing 230 lbs of benches. Finale is a large spherical cage in which first one, then 4 motorcyles race around, over and across each other.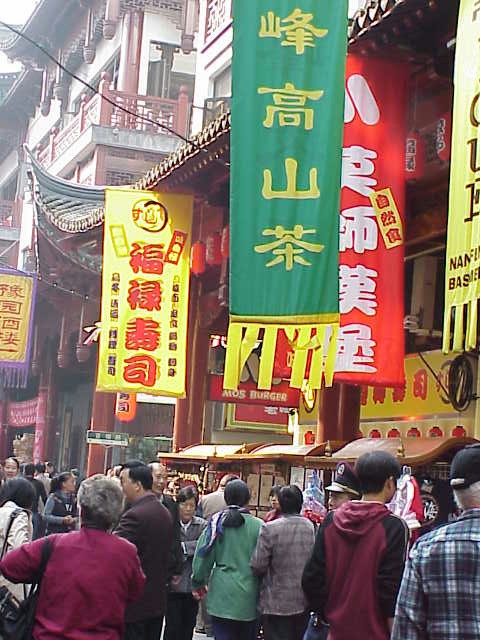 Market Shanghai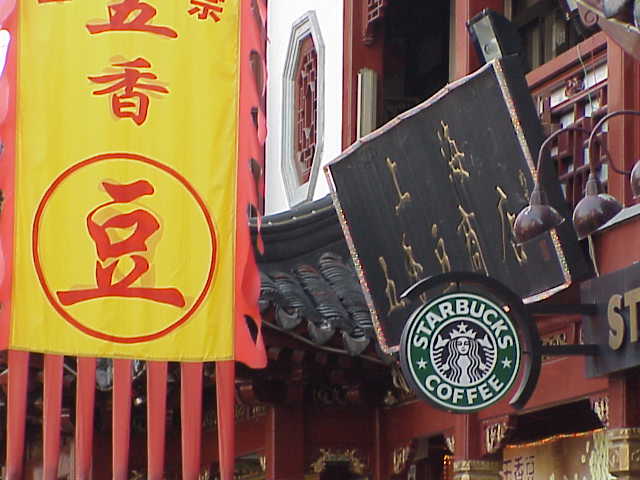 Starbucks Shanghai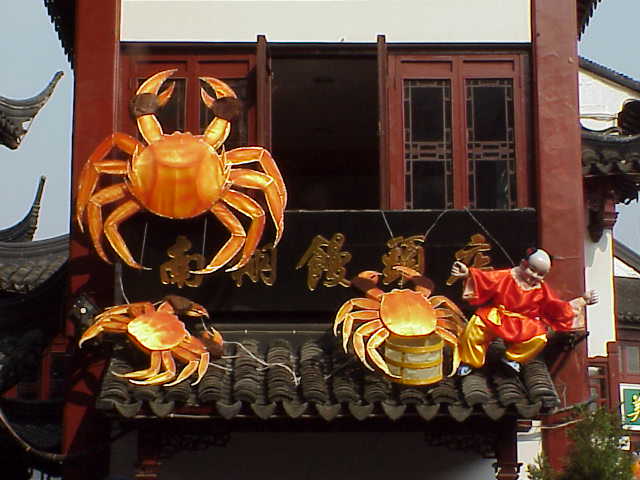 Crabs Shanghai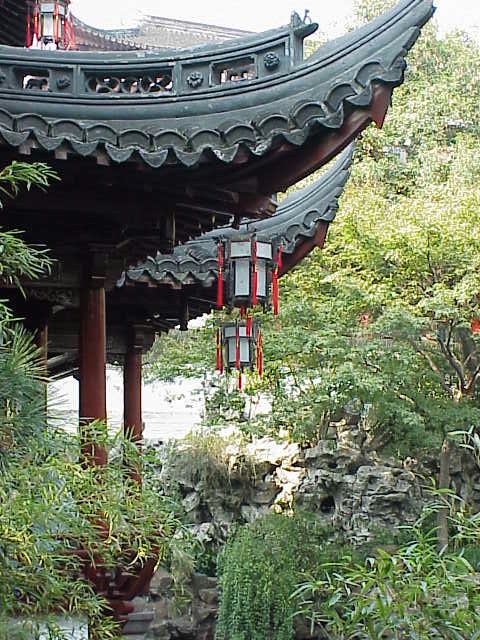 Lanterns Yu Yuan Garden Shanghai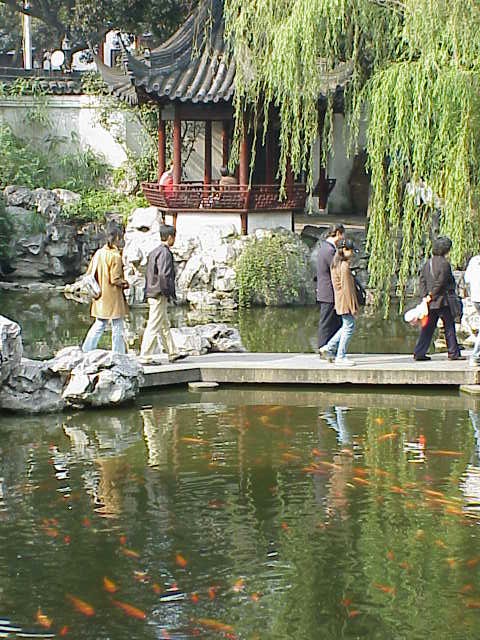 Carp & reflections Yu Yuan Garden Shanghai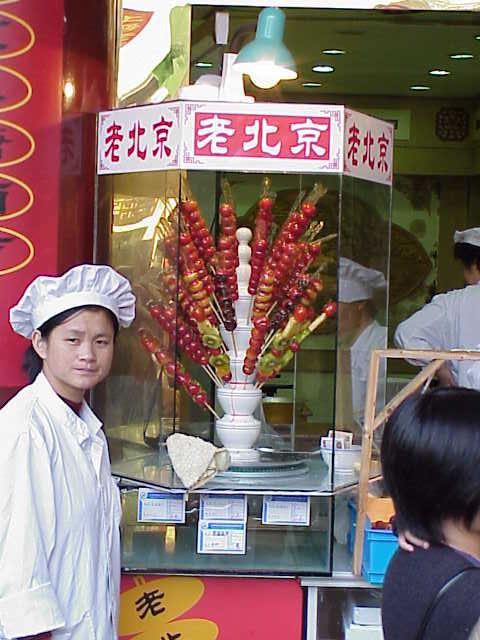 Market Shanghai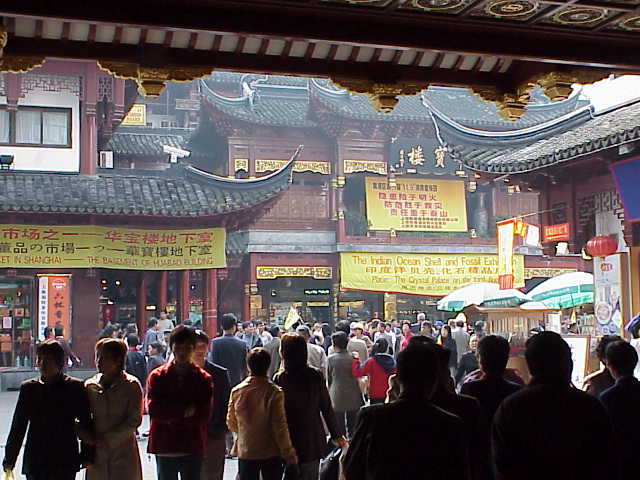 Market Shanghai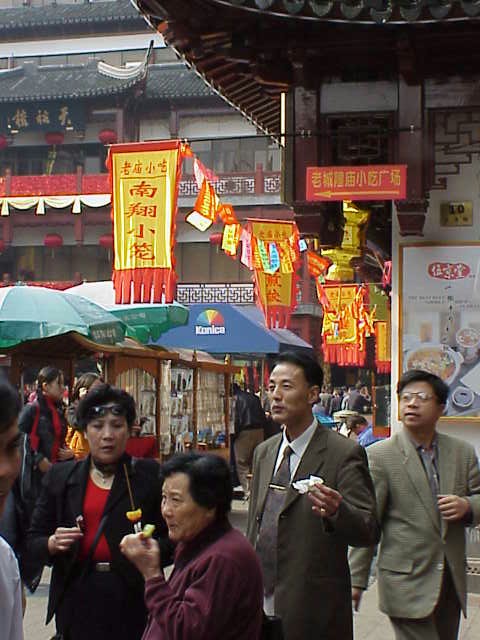 Market Shanghai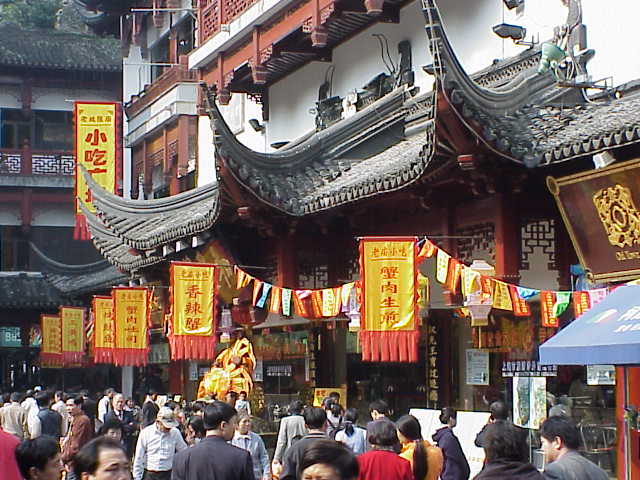 Market, Shanghai

Bamboo scaffolding, Shanghai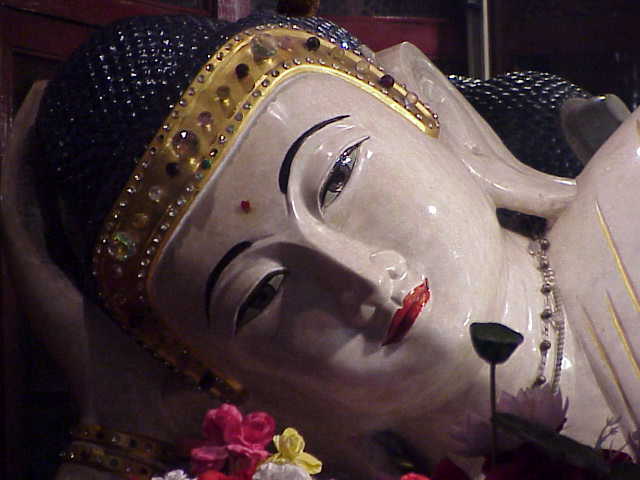 Reclining buddha, Jade Buddha Temple, Shanghai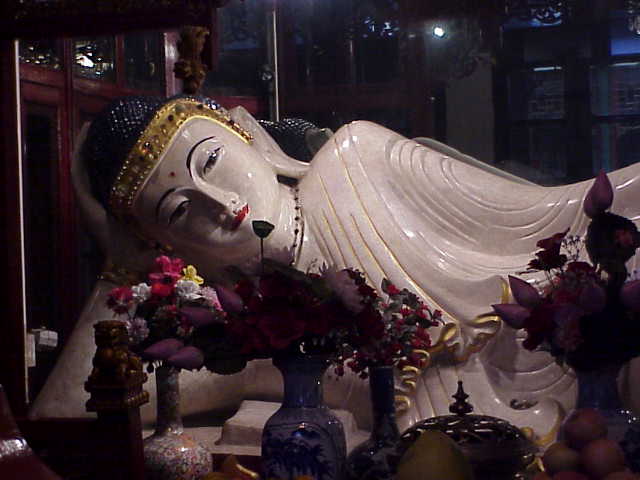 Reclining buddha, Jade Buddha Temple, Shanghai
....block after block of reinforced-concrete apartment buildings, four to five stories high, looking older than the Great Wall though their real age could not have exceeded a few decades, and decorated on the ends facing the street with large cartoonish billboards, some mediatronic, most just painted on. For the first kilometer or so, most of these were targeted at businessmen just coming in from New Chusan, and in particular from the New Atlantis Clave. Glancing at these billboards as she went by them, Nell concluded that visitors from New Atlantis played an important role in supporting casinos and bordellos, both the old-fashioned variety and the newer scripted-fantasy emporia, where you could be the star 'in a little play you wrote yourself.
The dense wet air along the Huang Pu was supporting millions of tons of air buoys, and Nell felt every kilogram of their weight pressing upon her ribs and shoulders as she skated up and down the main waterfront thoroughfare, trying to maintain her momentum and her false sense of pur­posefulness. This was the Coastal Republic, which appeared to have no fixed principles other than that money talked and that it was a good thing to get rich. Every tribe in the world seemed to have itS own skyscraper here. Some, like New Atlantis, were not actively recruiting and simply used the size and magnificence of their buildings as a monument to themselves. Others, like the Boers, the Parsis, the Jews, went for the understated approach, and in Pudong anything un­derstated was more or less invisible. Still others-the Mormons, the First Distributed Republic, and the Chinese Coastal Republic itself-used every square inch of their mediatronic walls to proselytize
.....
Neal Stephenson, Diamond Age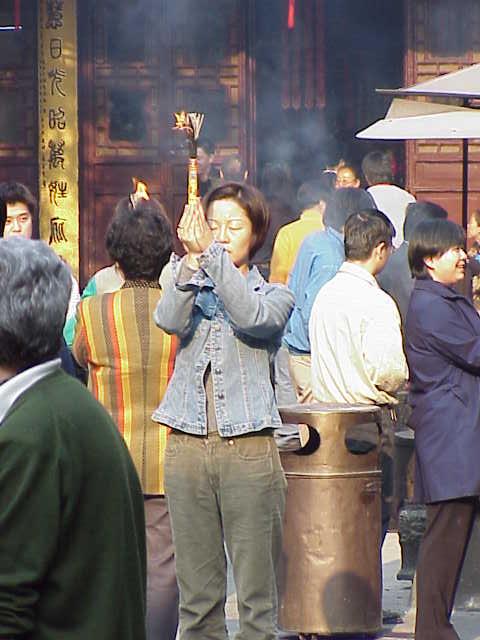 Burning incense, Jade Buddha Temple, Shanghai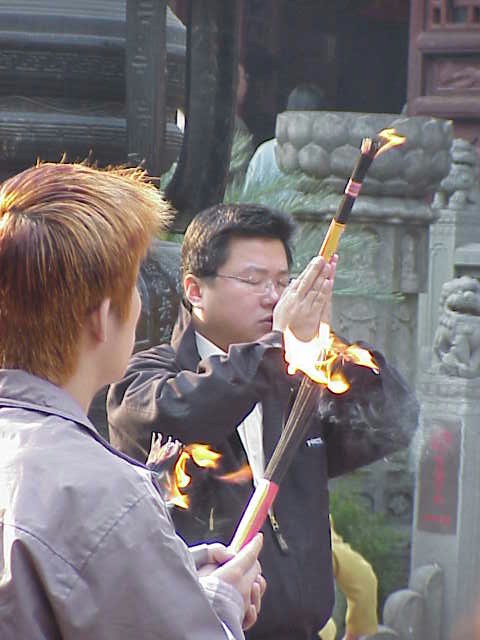 Burning incense, Jade Buddha Temple, Shanghai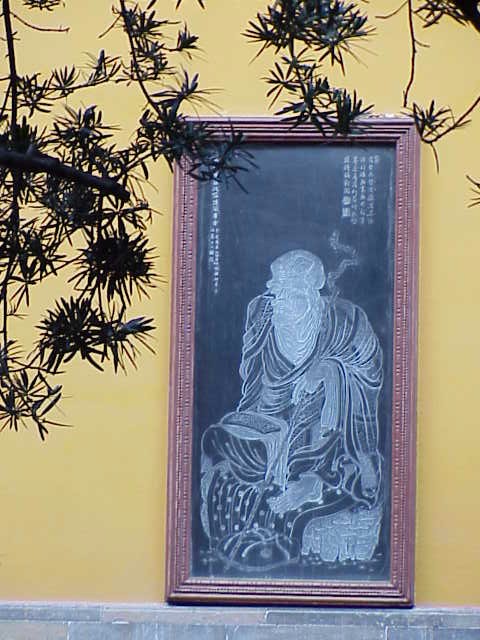 Painting, Jade Buddha Temple, Shanghai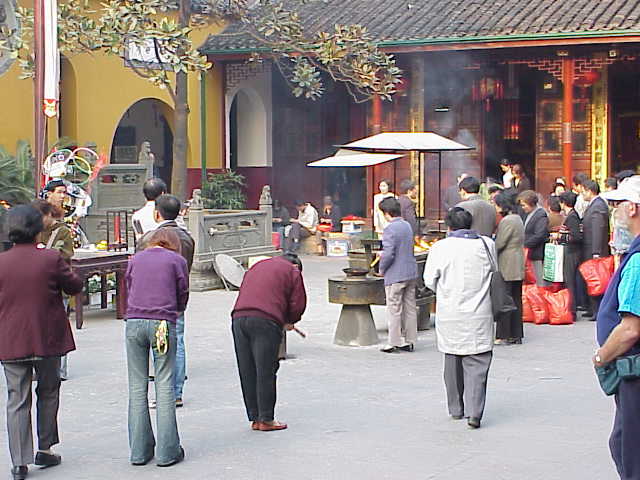 Offering incense, Jade Buddha Temple, Shanghai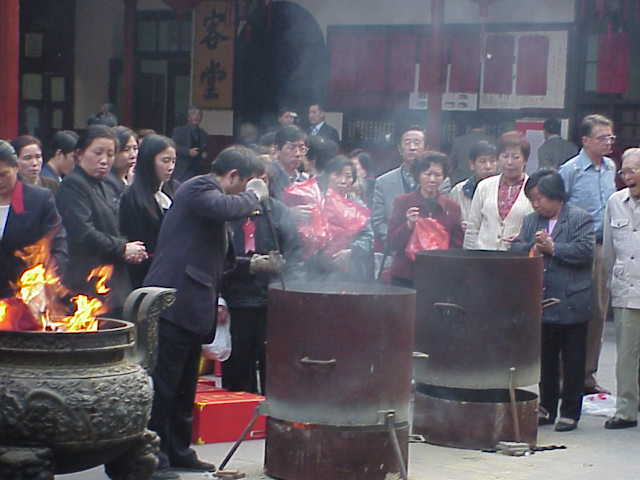 Offering incense, Jade Buddha Temple, Shanghai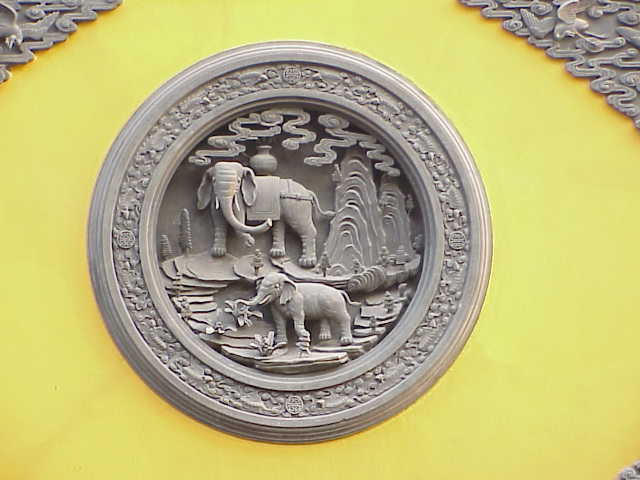 Screen wall - elephant Jade Buddha Temple, Shanghai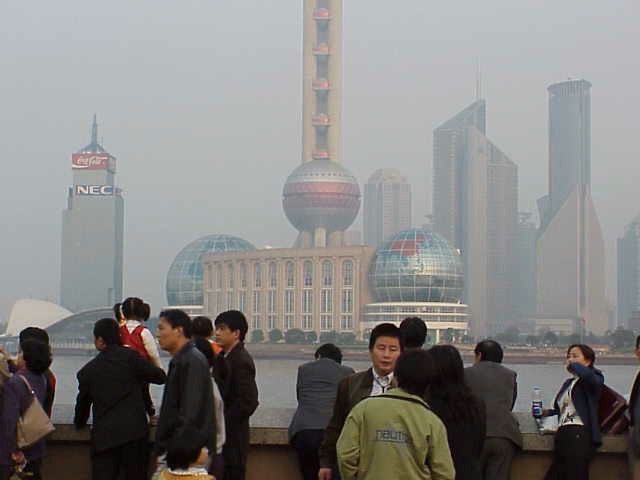 Skyline, Shanghai


Skyline, Shanghai